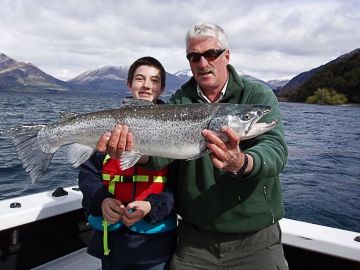 Stu Dever with a happy client!.
Stu Dever Fishing Charters video.
At Stu Dever Fishing Charters we understand how the need to fish can take control and make it impossible to go on with life until you can get your hook wet! That's why we can provide you with Queenstown's best fishing boat for charter.
Not just a great boat and skipper but also a fishing guide with an uncanny ability to sense fish and create exciting fishing experiences for all of our clients. Queenstown is an exhilarating, year round, alpine resort.
Enjoy some of the best scenery in the world as a backdrop while you fish.